Never in my life did I ever think I was going to have a chance to see Tom Waits live. It was just something I accepted. Then the "Glitter and Doom" tour was announced and with Bush giving everyone that stimulus check, the timing couldn't of been more perfect. I even traveled to Florida, a state I always told myself I would never visit, to see Tom Waits in the flesh. I could seriously go on and on about how magical that show was but I have a couple more post I want to publish before the night begins.
I bring you here an audio documentation (in high quality!) of a night from the "Glitter and Doom" tour. Recorded live on the last night of the U.S. tour in Atlanta's Fox Theater. This was originally streamed on http://www.npr.org/templates/story/story.php?storyId=92916923 Here's a track by track mp3 version of it.
http://www.zshare.net/download/59639319b24570b9/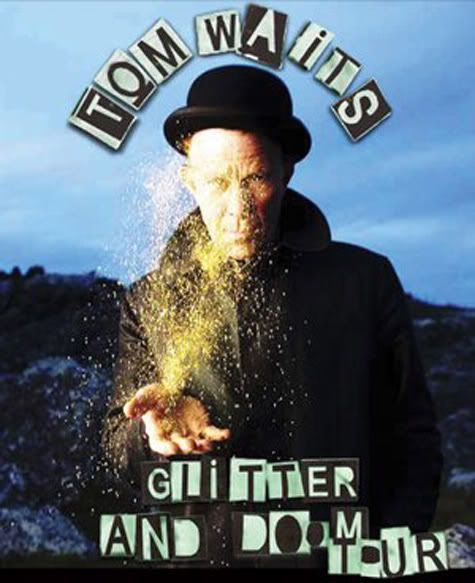 Track Listing:
1. Lucinda / Ain't Going Down to the Well
2. Down in the Hole
3. Falling Down
4. Chocolate Jesus
5. All the World Is Green
6. Cemetery Polka
7. Cause of It All
8. Such a Scream
9. November"
1o. Hold On
11. Black Market Baby
12. 9th and Hennepin
13. Lie to Me
14. Lucky Day
15. On the Nickel
16. Lost in the Harbor
17. Innocent When You Dream
18. Hoist That Rag
19. Make It Rain
20. Dirt in the Ground
21. Get Behind the Mule
22. Hang Down Your Head
23. Jesus Gonna Be Here
24. Singapore
25. Eyeball Kid
26. Anywhere I Lay My Head